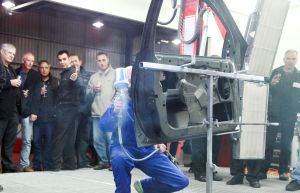 TAFE teachers from around Australia have visited Capital S.M.A.R.T's Hallam centre for a first-hand look at S.M.A.R.T's industry leading technology and work practices.

38 teachers who were are attending the 20th national biennial Vehicle Body TAFE Teachers Conference in Melbourne, held a cocktail party at the Capital S.M.A.R.T facility.

Capital S.M.A.R.T Chief Executive Norman Moss said it was significant that educational institutions recognised what had been achieved at S.M.A.R.T. "Our Chief Operating Officer Jim Vais started out as an apprentice at the age of 14 and went on to set up his own collision repair business and he is determined to bring youth and passion into S.M.A.R.T centres," Mr Moss said. "We have embarked on a relationship with Kangan Institute's Automotive Centre of Excellence to launch a S.M.A.R.T. technician traineeship. We are also investigating partnering with TAFE in other states as well as setting up our own training academy where students would complete this Certificate 2 program in Vehicle Body Repairs with an emphasis on S.M.A.R.T. techniques and processes." "Jim believes that it is very important to give back to the industry which is why S.M.A.R.T is working with TAFE to provide hands-on experience, with world's best practice technology," Mr Moss said. "We also think it is important for TAFE teachers and students to see how S.M.A.R.T centres lead the industry in sustainability as we use less power, have embraced water based paint and generate less CO2 emissions.". The inaugural Vehicle Body TAFE Teachers Conference Excellence Award was launched at the Capital S.M.A.R.T event. Named the Squizzy Taylor Award for its first recipient Graham "Squizzy" Taylor, it will be presented each Conference to a member who reflects the qualities that epitomise the new age of TAFE teachers; teamwork, student support and integrity.

After 40 years of teaching Squizzy has recently retired, but still spends a couple of days a week as a casual teacher in the Automotive Centre of Excellence's Panel Beating department.